Modification Name:
Thank 2 Unhide.
MOD Author
threetrees
Modification Description:
: With this MOD, your forum members can hide text inside their posts, other members will only be able to to view that text after thanking those particular posts.
This MOD is based on The two original MODs created by

mahony

and

ycl6

where i combined them in one, performed many changes and added extra features.
Modification Version:
: 1.2.7
phpBB Version:
: 3.0.7
Requirements:
None.
Style templates:
prosilver
subsilver2

(requires MOD version 1.2.6 or above AND phpBB3 version 3.0.6 or above )
Features (Added since the DEV version):
The ability to unthank a post.
A reason must be provided when a user tries to unthank someone.
A PM is sent automatically to the unthanked users containing information about who unthanked them, in which post, and for what reason.
Every unthank is added to the user log.
Ajax capability to support thanking/unthanking and updating post content (unhiding/hiding) without refreshing the page. (in addition to the ability to view the thank list without refreshing)
Ability to choose thank setup for "all posts" or "first post only" or "all except first post (first post never)"
Original ACP modules modified to suit new features.
Add "sync all" option to the ACP Synchronization module.
New ACP Modules added (thanks statistics, prune thanks).
New MCP module to edit the thanks given to a certain post (edit thank list).
Forum permission to view hidden text without thanking.
text is always unhidden inside signatures.
subsilver2 style edit

(requires MOD version 1.2.6 or above AND phpBB3 version 3.0.6 or above )

Locked topics cannot be thanked, and text is always hidden inside locked topics
Change Log:
[DEV] 0.9.1 :
text is always unhidden in PMs
text is always hidden in post review
text is unhidden only when & in a post that was thanked ( replying has no effect )
thank remove option is no longer included
related thank records are deleted when a user, post or topic is deleted
slight changes in styles
thank list does not load automatically with topic (hence the Ajax addon)
unregistered users cannot view thank list
MODX installation
[RC] 1.0.0 :
MODX and UMIL installation files are enforced (no manual file edits are needed for installation).
HIDE BBCODE is now created automatically.
95% of code changed and rewritten.
HIDE BBCODE and THANKS MOD are adequately combined together now (Thank 2 Unhide MOD).
Hidden text will remain hidden to everyone in viewtopic (including post author) if the thanking feature is disabled (either for the post or the entire forum).
Added Bug Fix for Error when viewing Private Messages.
[RC] 1.0.1:
Bug fix for "please login" error message.
Bug fix for Hide BBcode tag check for parsing.
[RC] 1.0.2:
Modified Hide BBcode tag check for safe parsing.
[RC] 1.1.3:
Fixed seperate parsing to always unhide text in signatures
Added thank check for search results.
Added local (forum based) permission to view hidden text without thanking.
[RC] 1.1.4:
Added bug fix for thank list display.
Fixed SQL syntax for statistics display in the acp.
[RC] 1.1.5:
Modified pruning to increase efficiency with larger tables
Replaced SQL queries used for Synchronization for better efficiency with larger tables
[RC] 1.2.6:
Released a subsilver2 style edit

(requires MOD version 1.2.6 or above AND phpBB3 version 3.0.6 or above )

Did some clean up for prosilver style edit in viewtopic_body.html and thanks.js
Added additional feature (Cannot thank/unthank if topic is locked)
Added additional feature (text is always hidden inside locked topics)
Fixed style condition (Thank button/list will never show to guests)
Fixed javascript bug in mcp_thanks.html
Fixed javascript bug in acp_thanks.html
Fixed bug in checking for username during pruning in the acp_thanks.php
Did some code changes in acp_thanks.php to suit phpBB codelines
Added number of pruned records in the prune success message
Fixed bug in thanks.php for checking if the user thanked the post
Added new code in viewtopic.php to enable using the subsilver2 style
[RC] 1.2.7:
Fixed big in search.php (bbcode class instantiation error).
Screenshot: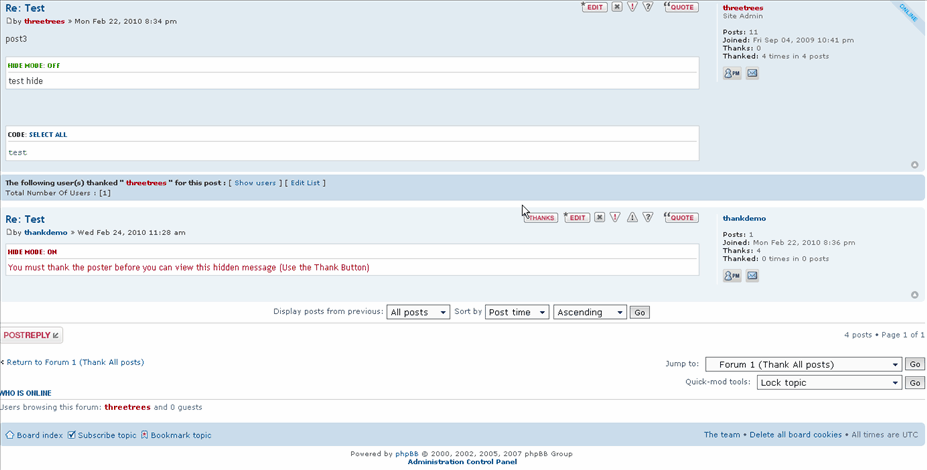 subsilver2 Screenshot:

ACP Screenshots: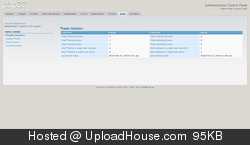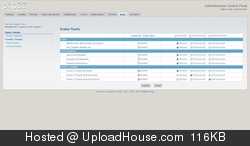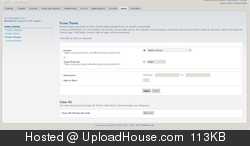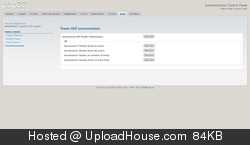 MCP Screenshot:

Modification Demo:
Modification Download:
Click to Download
Notes:
- If you're installing the update from 0.9.1 , once you're done updating, please edit the "includes/constants.php" file and remove the following (or comment it out) since it's not needed anymore :
where XXX is any number
---------------------------------------------------------------------------------------------------
Extra:
UPS Addon
version:
1.0.0
phpBB version:
3.0.7-PL1
Requirements:
Style templates:
Features:
Adds a special Module to the UPS ACP category for complete control over the addon.
Adds a new feature called "Liquidate Thanks" to the user's points control system.
Adds a new permission to control the newly installed feature "Liquidate Thanks".
The ability to set up the amount of points awarded when someone is thanked.
The ability to setup the amount of points lost when someone is unthanked.
The ability to setup the amount of points lost when someone unthanks a user.
Dynamic update of the point records on the "viewtopic.php" page.
MODX and UMIL automated (and painless) installation.
Notes:
I might not give this any full support before i finish the next version of my MOD, and it is very likely that this addon will NOT be compatible with the upcoming version of the "Thank 2 Unhide" MOD. However, I will try to release an update for this addon together with the new MOD version.
Download:
Click here to Download the UPS Addon