Modification Name:
Mail Gateway
Author:
Elric Pedder
Modification Description:
A Mail Gateway that can be used primarily to connect forums with mailing lists.
Modification Version:
0.0.3
Features:
Feature List.
Collect mail by drop-path or POP3
Convert plain-text to BBCode. Handles simple formatting, links, quotes and code blocks and can strip out text from complex MIME messages.
Convert BBCode to plain-text
Optionally create new users based on e-mail address matching (random passwords assigned)
Handles threading/topic assignment based on message-id and References: header field
Screenshots: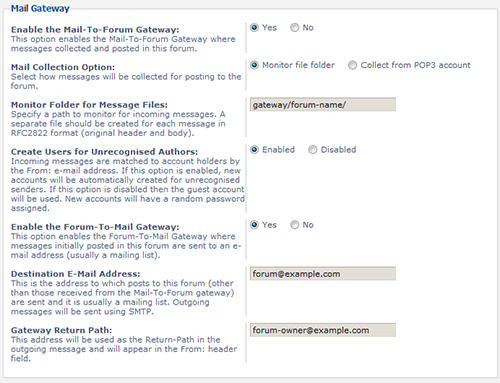 Modification Download:
http://community.mailtraq.com/mail-gateway-0-0-3.zip
or visit
This page
I know a similar module exists:
Mail2forum
but it appears abandoned and I needed to get this working quite quickly.
Tips for configuring the cron job on Windows
Version History:
Version 0.0.3
Remove list identifiers in brackets in the subject line
Added support for HTML messages
Changed Unicode handling to support more character sets
Version 0.0.2
Added support for Subject based threading
Improved Locale handling and conversion to UTF-8
Six hyphens now also denote start of excluded text to clean top-quoting
Fixed bug in identifying base64 encoded message bodies
Version 0.0.1