Extension Name:
Tabbed profile view
Author:
Zyleta
Extension Description:
An extension, which change standard profile view into tabbed view
Version 1.0.5
changed font-size in contact, statistics and signature into little smaller
Version 1.0.4
fixed bug in the code
changed profile details on left side (not middle)
improved responsive view
Version 1.0.3
moved signature content into memberlist_view_contact_before.html
improved *css code
deleted not needed file memberlist_view_contact_after.html
Version 1.0.2
now it should works well with phpBB 3.2.0-RC1
Version 1.0.1
changed the name of event. Read README.md to know how to implement Your own extension into tabbed profile view
Version 1.0.0
Features:
added only needed classes, all old are the same
avatar box is the same, but the css of it is changed
avatar box always is showed, contact, stats and signature are on tabs
images on signature are re-sized when are to large, to max-width of signature box
the view is adapted (I think that it is) into responsive view
in README.md file i wrote short instruction, how to add (through another extensions) new tabs, to works with it - didn't tested yet, if this would works, but soon i will test, and if needed do change in this
extension works fine with prosilver, and will works fine with every style, that didn't change memberlist_view.html. Maybe some css styling would be needed
Screenshots: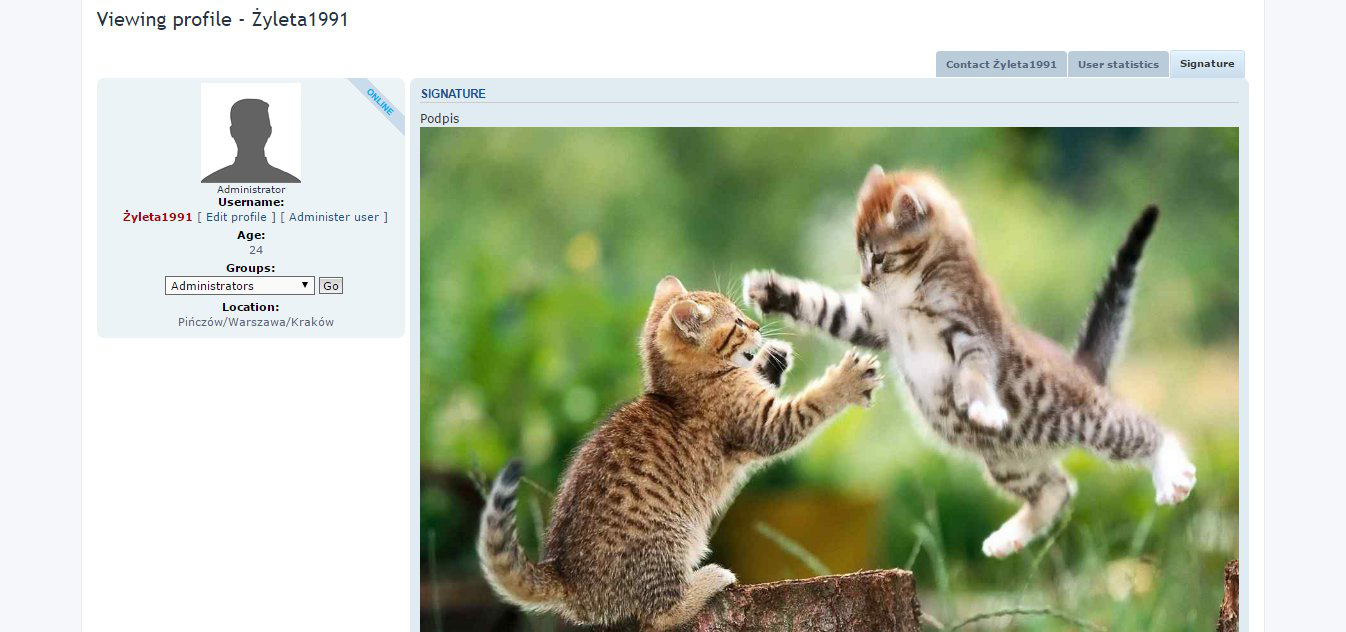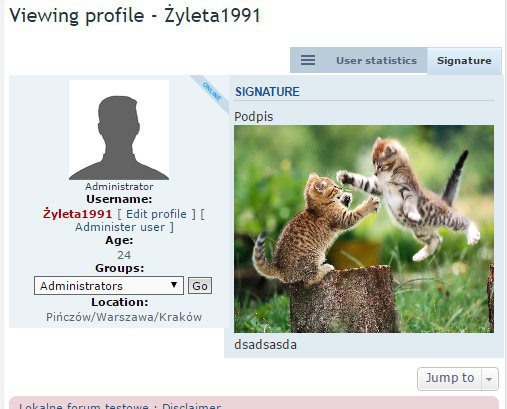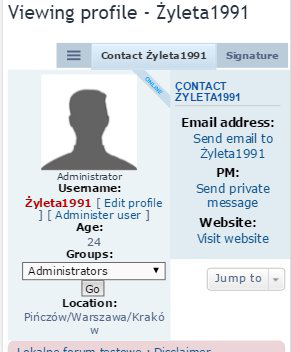 Download:
Download Link
Github:
Tabbed profile view
Installation:
1. Download the latest release.
2. Unzip the downloaded release, and change the name of the folder to `tabbedprofileview`.
3. In the `ext` directory of your phpBB board, create a new directory named `zyleta` (if it does not already exist).
4. Copy the `tabbedprofileview` folder to `/ext/zyleta/` (if done correctly, you'll have the main extension class at (your forum root)/ext/zyleta/tabbedprofileview/composer.json).
5. Navigate in the ACP to `Customise -> Manage extensions`.
6. Look for `Tabbed profile view` under the Disabled Extensions list, and click its `Enable` link.
Additional informations:
This is my first extension, I added here (my second, but the first one i don't want to add right now, I think that I can improve it), I hope You will tell me, what did I wrong, and give me some instruction, how to fix it.
Actually, I don't have own forum, so all problems with this ext (I'm not advanced, but if I know how to help, I will) will be did here.
And, I don't know really good github, first time use it, and I don't know how to do the version check with github, so it is unavailable right now.
I didn't checked, if 3.2 changed something with memberlist_view, and tabs, but if not, I think, that it will works on 3.2.
I hope, that I placed right tag ([DEV]) to this topic.
And sorry for my english. It isn't well, but I hope You can understand what I wrote