hey all,
Please find herewith bbguild 2.0-A4
Description:
bbGuild is a MMO Guild manager for your phpBB3 Bulletin board. It was originally forked from EQDKP to phpBB in 2008. 2.0 version is rebuild on the Symfony 2 framework for phpBB 3.1.
Features : Integration of Game, Guild management facilities; Clean report screens, Player, Roster, ACP and UCP modules. Games supported : World of Warcraft, The Lord of the Rings Online, Dark Age of Camelot, Vanguard, EverQuest I/II, Warhammer Online, Final Fantasy XI, AION, Rift, SW:Tor, Lineage 2, TERA, FFXIV and Custom Game. Languages supported : English, French, German, Italian. Robust admin features, no Installation headaches, just copy into ext folder and enable the extension. There will be a number of extension plugins, DKP Manager, Raidtracker, bbTips, Apply, Bossprogress, Raidplanner.
Changelog:
Version-2.0.0-A4 13/03/2016
- [NEW] landing page added.
Licence
license-GPLv2
demo:
http://www.avathar.be/demo200/app.php/guild/roster
Download
http://www.avathar.be/bbdkp/app.php/dow ... nload?id=9
Repository
https://github.com/bbdkp/bbguild
Screenshot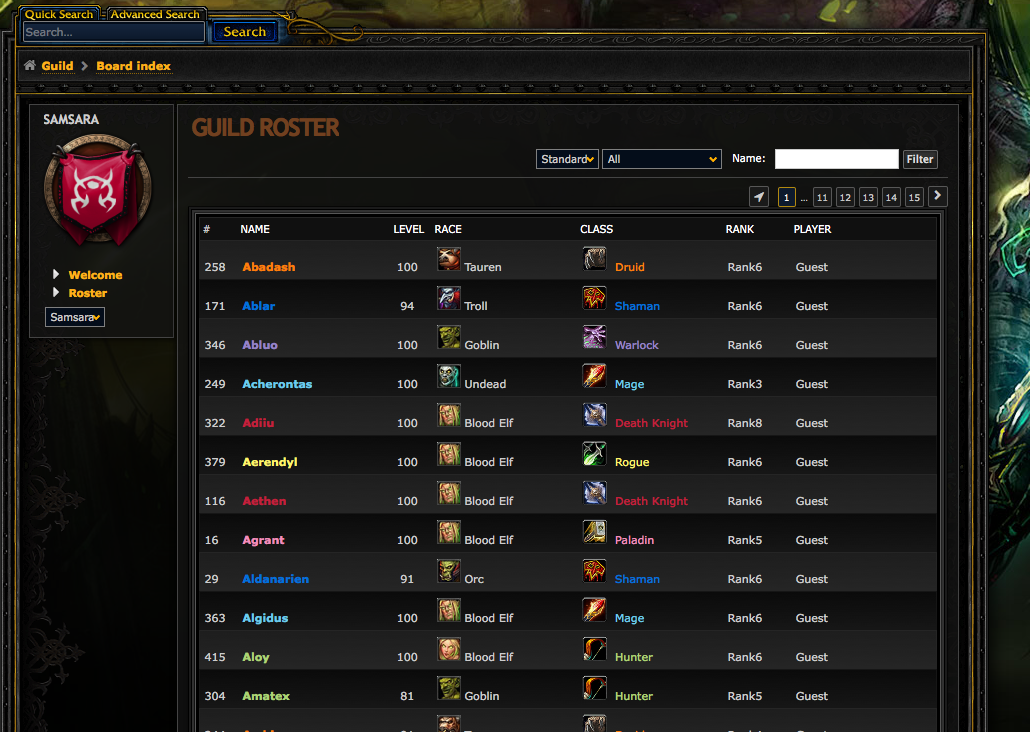 Requirements:
phpbb 3.1.x
PHP 5.3.3 or higher.
Gameworld, Raidplanner, DKP, EPGP are scheduled for another extension.