As of April 2018, no new development is planned for this extension.
Extension Name:
s9e/mediaembed
Author:
JoshyPHP
Extension Description:
Automatically embeds videos and other third-party content from a hundred sites. Works on phpBB 3.1 and phpBB 3.2.
Extension Version:
20170724
Features:
Supports
121 media sites
: ABC News, Amazon Product, audioBoom, Audiomack, Bandcamp, BBC News, Blab, Bleacher Report videos, Break, Brightcove, CBS News Video, CNBC, CNN, CNNMoney, CollegeHumor, Comedy Central, Coub, Dailymotion, Democracy Now!, dumpert, 8tracks, ESPN, Facebook, Flickr, FORA.tv, Fox News, Funny or Die, Gamespot, GameTrailers, Getty Images, Gfycat, Gifs.com, GitHub Gist (via custom iframe), Global News, GoFundMe, Google Drive, Google+, Google Sheets, Healthguru, Hudl, Hulu, HumorTV, IGN, IMDb, Imgur, Indiegogo, Instagram, Internet Archive, İzlesene, JW Platform, Kontinental Hockey League (КХЛ), Kickstarter, Kiss Video, Libsyn, LiveCap, LiveLeak, Livestream, Mail.Ru, Medium, Metacafe, Mixcloud, MLB, MRCTV, MSNBC, National Geographic Channel, National Geographic Video, NBC News, NBC Sports, NHL Videos and Highlights, NPR, The New York Times Video, Oddshot, Pastebin, Pinterest, Plays.tv, Podbean, Prezi, Reddit threads and comments, Rutube, Scribd, SlideShare, SoundCloud, Sportsnet, Spotify, Steam store, Stitcher, Straw Poll, Streamable, Team Coco, TED Talks, The Atlantic Video, The Guardian, The Onion, TinyPic videos, TMZ, Trailer Addict, Tumblr, Twitch, Twitter, Ustream, VBOX7, Veoh, VEVO, Viagame, Video Detective, Videomega, vidme, Vimeo, Vine, VK, Vocaroo, Vox, Washington Post Video, WorldStarHipHop, The Wall Street Journal Online, XboxClips, Xbox DVR, Yahoo! Screen, Youku, YouTube, Zippyshare audio files. The complete list with examples of supported URLs can be found on
this page
.
Important note:
the extension will modify the way
[youtube]
and other similar BBCodes behave. If you have a BBCode with the same name as one of those sites, you should test it after installing this extension.
Screenshots: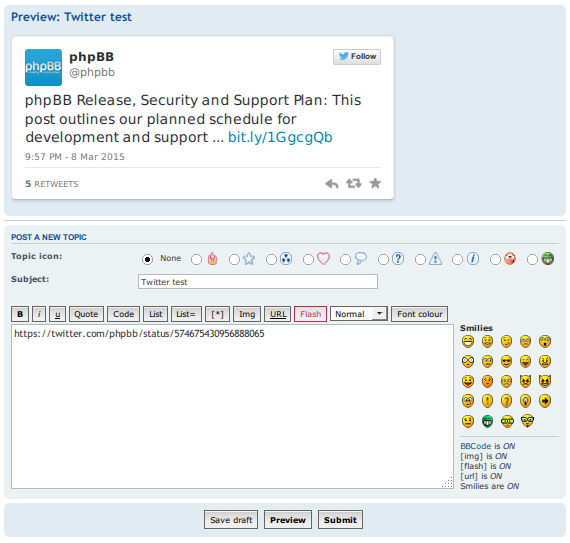 Extension Download:
https://github.com/s9e/phpbb-ext-mediae ... 170724.zip
Installation:
Unzip the package on your home computer then upload the folder called s9e into the ext directory of your phpBB installation then enable the extension in the ACP.
Do you like this extension?
If you like this extension, you can support its author with a donation in EUR or USD.