Extension Name:
Prime Ban to Group
Author:
Wolfsblvt
(Original Mod by
primehalo
, thanks for letting me port this mod)
Extension Description:
Automatically moves users into a special group when they are banned or suspended. This allows you to visually indicate their status through the use of group attributes, such as a custom rank image. Users will be removed from the group when they are manually unbanned or when their temporary ban has ended. Users who are already banned or suspended when this extension is installed can be moved to the group if you resync the groups.
Extension Version:
1.0.2
Requirements:
Features:
Current Features
****************
Adds banned, suspended and inactive users to a special group
Uses a special rank image for these groups (can be changed of course)
Configurable cron task wich checks if a user is no more banned
Planned Features
****************
Screenshots: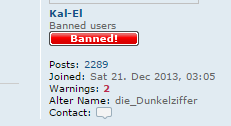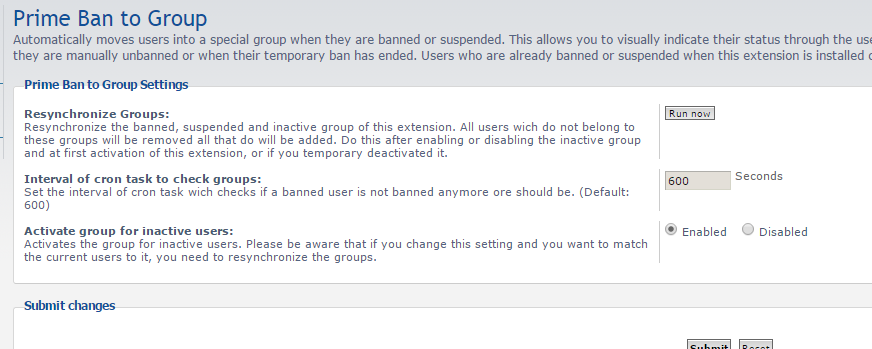 Extension Download:
wolfsblvt.primebantogroup.zip
GitHub Repository:
http://github.com/Wolfsblvt/primebantogroup/
(Just for viewing purposes, do not install this extension from GitHub!)
More Information:
This was an extension Request
made here
.
I ported the code from primehale and changed a bit, added an acp config and moved the remove from the group from user login to an own cron task.
Bug reports for this extension in this thread please, or on GitHub.
(Oh, and my english is not the best. If you have suggestions for translations or want to add another translation language, just use this thread too)