Extension Name:
Highlight Unread Posts
Author:
Wolfsblvt
Extension Description:
Highlights all unread posts in a topic. Color can be chosen in ACP.
Extension Version:
1.0.1
Requirements:
Features:
Current Features
****************
Highlights all unread posts
Color configurable in ACP
Color picker for best options to choose color
Planned Features
****************
Screenshots: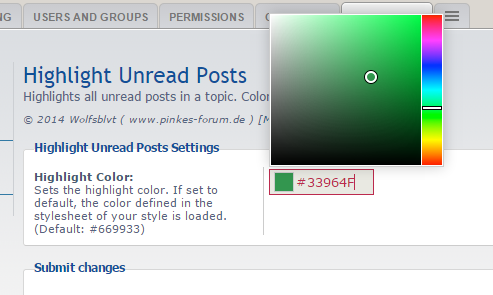 Extension Download:
wolfsblvt.highlightunreadposts.zip
GitHub Repository:
http://github.com/Wolfsblvt/highlightunreadposts/
(Just for viewing purposes, do not install this extension from GitHub!)
More Information:
This was an extension Request wich I thought would be quickly done. For testing purposes I have implemented the ACP page. Maybe some will need it, cause they don't want to edit stylesheets
Bug reports for this extension in this thread please, or on GitHub.
(Oh, and my english is not the best. If you have suggestions for translations or want to add another translation language, just use this thread too)