Extension Name:
Avatars on Memberlist
Author:
Wolfsblvt
Extension Description:
Shows user avatars on memberlist.
Extension Version:
1.0.3
Requirements:
Features:
Current Features
****************
Displays user avatars on memberlist
Show avatar bigger on hover
Uses CSS transitions, no javascript!
Placeholder for users without avatar
Full subsilver2 support
Planned Features
****************
Screenshots: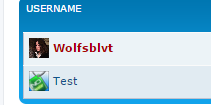 Extension Download:
wolfsblvt.avatarsonmemberlist.zip
GitHub Repository:
http://github.com/Wolfsblvt/avatarsonmemberlist/
(Just for viewing purposes, do not install this extension from GitHub!)
More Information:
This was an extension Request
made here
.
Nothing big. And as Paybas would note here: This can be achieved with style edits only, so there i no big need for this extension. It is just easier
And another note, the hover effect doesn't make the avatar actually fullsize. I couldn't find a way to make this work with css transitions. It shows the avatar on 100px. I think this is a similar width like most boards use for fullsize.
Bug reports for this extension in this thread please, or on GitHub.