Extension Name:
@Mention System
Author:
Wolfsblvt
Extension Description:
Allows users to mention other users in posts. If a user is mentioned, he will recieve a notification unless he deactivated this notification. Meantioned usernames can be automatically colored in their username color. Mentioned users will be autosuggested.
Extension Version:
1.0.0
Requirements:
Features:
Current Features
****************
Send Mention notifications as notification or email
Mention with @Username, [mention]Username[/mention] or [mention="Username"]Nickname[/mention]
All three can be deactivated separately
Mentions are replaced in text with username color
Autocomplete feature whily typing mentions...
... with avatars and username color
Suggest user who have posted in this topic first
Automatically closes mention BBCodes
Defining of own [mention] BBCode is forbidden
Planned Features
****************
Screenshots: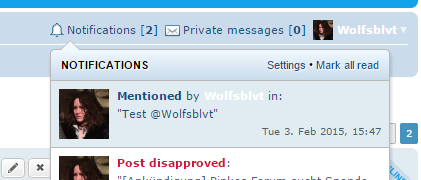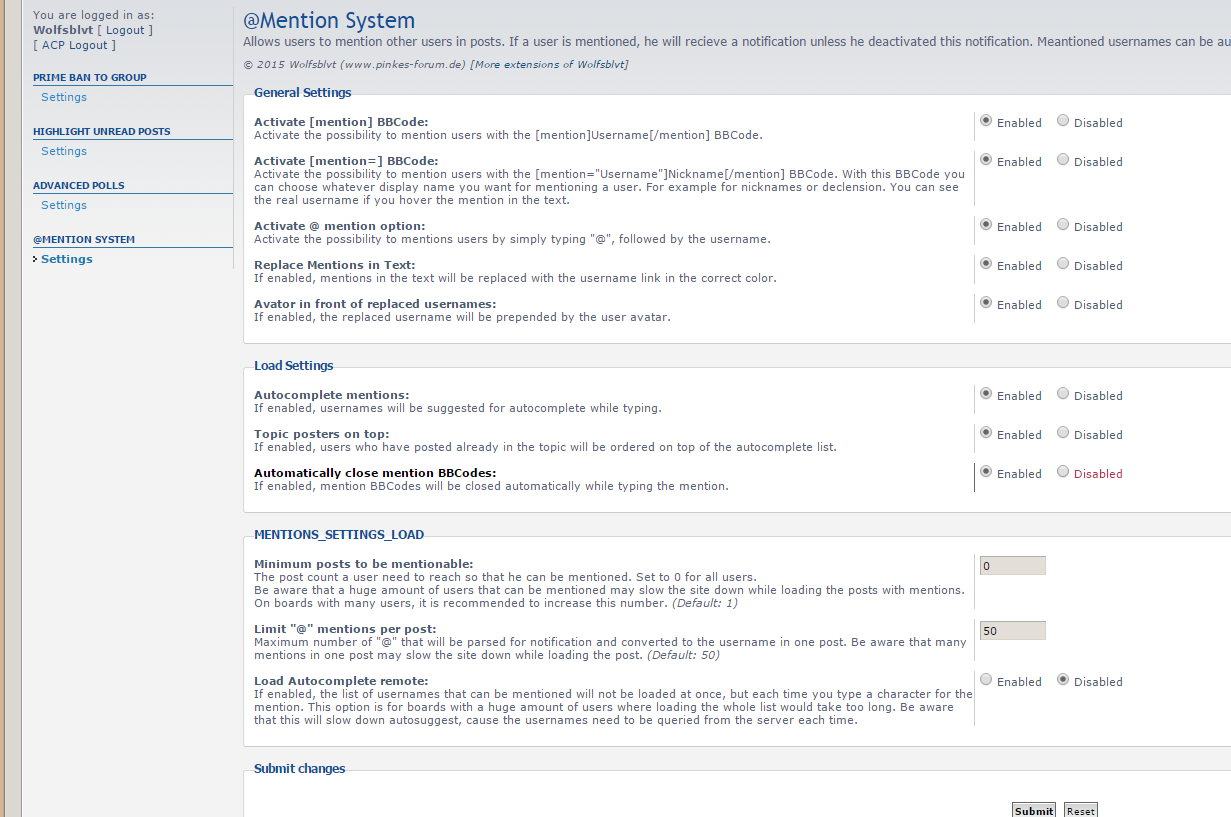 Extension Download:
wolfsblvt.mentions.zip
GitHub Repository:
http://github.com/Wolfsblvt/mentions/
(Just for viewing purposes, do not install this extension from GitHub!)
More Information:
This extension is based on some event requests,
here
,
here
and
here
.
I think since the notification center was first introduced for phpBB, many thought of this feature, and it is even discussed to be integrated in phpBB maybe. I don't want to wait till then, so I have done that for all of you
I have tested this extension several times, also on my board, wich is some kind of big, but I am quite sure there will e issues with even bigger forums maybe. So I need heavy testing from you all!
Whoever has a board with many many users should test that extension and tell me if it is slowing down the site.
For this, I have implemented a small runtime tracking function in the dev version. So all you have to do is create some posts with mentions of all kind (especially the
@mention
please) in a thread, and then add the parameter
measure_time=1
to the url of the thread. The site will load several seconds then and it will lead to an output of runtime. I would be pleased if you could post some of those times here, especially when the runtome takes more than a few miliseconds.
Bug reports for this extension in this thread please, or on GitHub.
══════════════════════════════════════════════════
If you like what I am doing, you can
me or buy me something here

or here

so that I keep doing what I am doing.