Hello,
I have a web site and a facebook page which I have duly entered in my UCP.
Both these display perfectly on my profile page:

In memberlist.php, however, only my website is correctly displayed and the link works. My facebook page is displayed as
Darloup
. My facebook page is :
https://www.facebook.com/Darloup

And in the mini-profile in the topics,
nothing
displays, although I'm pretty sure I have the correct settings: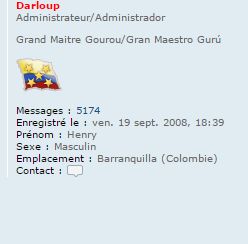 How can I please solve those irritating problems?
With my anticipated thanks, as always!
Henry