This style it's "ported" to 3.1, the style author is
FreakyBlue
.
Style Name:
IDLaunch Blue
Style Version:
1.0.0 RC1
phpBB Version:
3.1.4
Requirements:
phpBB 3.1.4
prosilver style installed (Inherits from prosilver).
Description:
The IDLaunch Blue Style is mainly blue. It has a screen wide banner (logo), and round corners.
Ported Author:
micontre (Admin phpBB Spain).
Demo:
Click
Here
please.
Screenshot:
(click on image to see in large size...)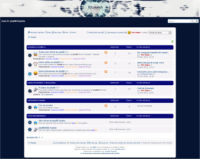 Important, this style is in development.
Installation is
only recommended for testing
purposes and is not supported on live boards.