Extension Name:
Advanced Polls
Authors:
Extension Description:
Advances the core poll system of phpBB with new features like hiding votes till end, showing poll voters, scoring polls, limiting the votes and more.
Extension Version:
1.2.0-b1
Version Highlights:
This version brings a lot of new functionality to this Advanced Polls extension. All functionality may be enabled or disabled at the board level.
Scoring Polls
These are polls that allow to assign multiple votes to a single option. This allows to create "voting" polls, with points being assigned differently to the best, second, third options... Also, it allows to make a kind of "ordering list" where someone could ask for multiple copies of the same item. And may more!
Incremental voting
If enabled, a voter may issue a partial vote (assign only part of the allowed votes), and then complete the voting later, even if changes are NOT allowed. Of course, this is only useful in polls where multiple votes may be assigned (both for scoring polls, and for normal polls)
Voting on closed topics
This allows to issue votes in topics that are locked/closed and do not accept comments. Therefore, this separates the closing of a topic from the closing of the accompanying poll. This is useful for polls were voting is secret (at least while the voting is open), and no comments on the voting/poll are allowed
Notification on finished polls
If you voted on a hidden poll (a poll that does not allow to see results until voting period ends), you will receive a notification when these results are available
Scoring poll voters
On scoring polls that allow seeing poll voters, you will be able to see also how many votes were given for each option
Ordered poll results
If selected, when you see the results of a poll, the options will be reordered by decreasing number of votes received
Poll end specification
The end of a poll may be specified as always, as a number of days since the poll started, or as an specific date and time when the poll finishes. Useful to specify, for example, the end of a poll on "Midnight next Sunday", or something similar.
Poll moderators
New permission that allows specific moderators to see poll voters regardless of the configuration of the poll. The option may be enabled or disabled at board level.
And much more...
Requirements:
PHP: >= 5.3.3
phpbb: >= 3.1.5
Features:
Current Features
****************
Ability to hide poll votes till end of poll
Ability to show poll voters in poll
Ability to mark a poll as "I don't want to vote" so you can directly see the results
Choose default options for poll creation
Permission to see poll voters
Moderator permission to see poll voters even if poll is not public
Limit voting to people posted in thread
Works with all the ajax calls
Notification if hidden poll you voted in has ended
Ability to assign multiple votes to a single option
Ability to vote incrementally
Ability to vote on closed topics
Can specify poll end by date and time, as well as duration
Results of a poll may be ordered
Planned Features
****************
Full subsilver2 support
Refactoring code
Restructuring and completing visibility options
Restructuring and completing vote change options
Clean up code by introducing additional events in templates
Screenshots (from version 1.1):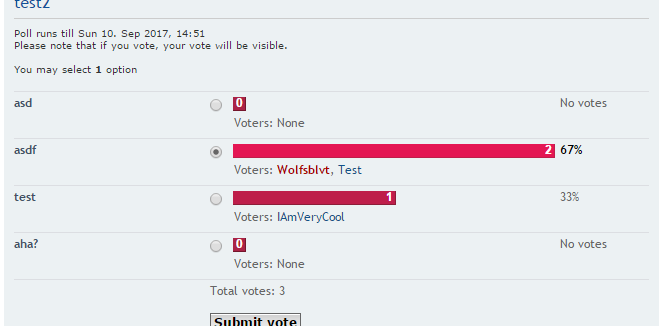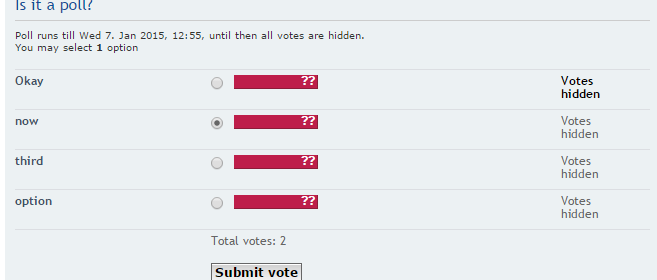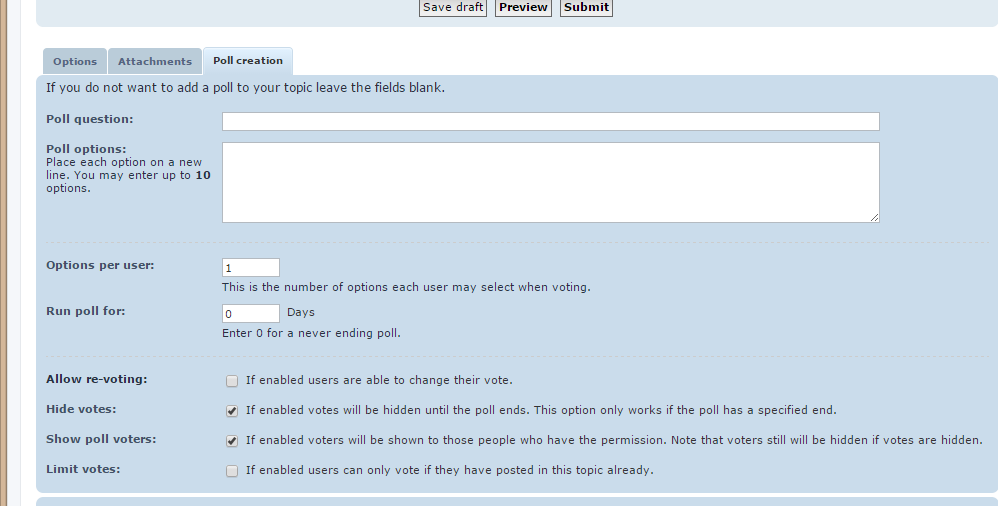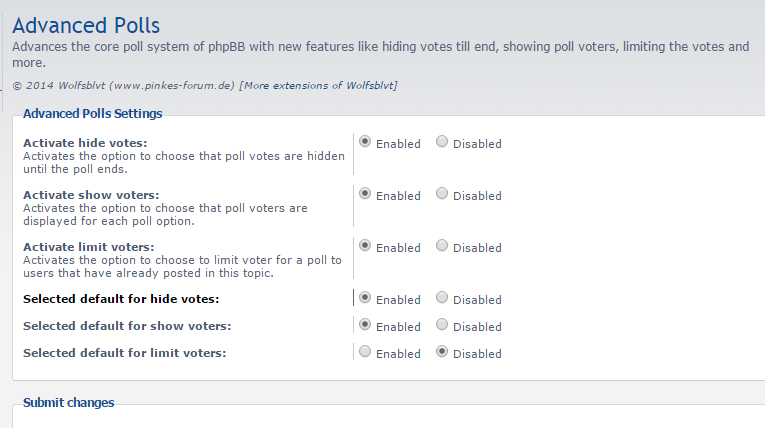 Extension Download:
wolfsblvt.advancedpolls.zip
(Temporarily using GitHub for extension download)
Installation:
Copy the contents of the downloaded file to the
ext/wolfsblvt/advancedpolls
folder. Make sure that the file named "composer.json" is placed exactly in the mentioned folder.
GitHub Repository:
http://github.com/Wolfsblvt/advancedpolls/
(For viewing purposes)
More Information:
There are multiple features missing in the core poll system of phpBB, and that improving those would be useful for many people, so we decided to combine several use cases from each of us into a single more complete extension that would advance the phpbb poll system. Here is it now!
Of course, things may be improved always, so if you have suggestions, we want to hear them.
If you don't like the styling of the poll voters list, it can be easily modified in css, even with limiting the usernames displayed, etc.
In this version, subsilver2 support is NOT provided. We are planning to include it at a later time, but for now, subsilver2 is NOT supported with this version for all the functionality. If someone wants to make it work in subsilver2, we would gladly accept a PR with those changes, to be incorporated into a future version.
This extension is fully compatible with the new ajax calls where the site isn't reloaded when you vote.
As for language packs, the ONLY languages that are supported for this version are:
English
Spanish
Italian
Russian
Dutch
French
The other language packs have NOT been updated to this version, so until then, you will not have the complete language. Translators, please, complete translations, and send PRs or language translations to be included.
If you have further suggestions for new functionality, please, mention them here, and we will evaluate them, and potentially include them (no commitments!).
Bug reports for this extension in this thread please, or on GitHub.