I was wondering if there's a way to 'create' our own HIDE feature within the control panel. I know some of you have asked in other similar requests, "Why would you want to hide anything", but the fact of the matter is; many members choose to use the hide content link to see who's interested in their work instead of allowing them to come to the topic and take without showing WHO downloaded or at least show a little appreciation for the time involved in preparing and sharing their 'ideas'.
The issue [now] is - we have a few members who have discovered the 'Quote' backdoor, and are abusing it to take any & all links without so much as a "Thank you".
I have 2 hide features, and only 1 does a decent job at hiding selected content. The only fault is that it displays the 'hidden content' to any member who chooses to 'quote' the OP, What I need this feature to do is; keep the content completely hidden until the reply is submitted.
I am very interested in finding a fix for this query and wish to not turn this topic into a puzzle of Why's & Why Nots...
This is the Ext that I'm using:
phpbb-ext-hide-master
(I am not looking for support for this Ext)
So, if you know of an Ext that would work or a workaround - I'm open to any and all ideas.
Thank you for your time.
I need to [somehow] incorporate this into the Editor, and would like to know if anyone knows how it can be accomplished:
Code: Select all
<a class="sceditor-button sceditor-button-fahide" data-sceditor-command="fahide" unselectable="on" title="Hidden"><div unselectable="on">Hidden</div></a>
Click on image to view larger: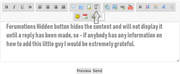 Click on image to view larger: