MOD Title:
Total User in Forum
MOD Version:
1.0.0
MOD Author:
For Beta 0.1.0: Simuzer (Zafer Sarışahin)
http://www.simuzer.com
For 1.0.0 and next : Alexis (Sevdin Filiz)
http://www.canversoft.com
MOD Description:
in the main (index.php) page of phpBB, number of total users in forum next forum name.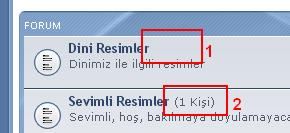 1. if no user in a forum, it is not shown.
2. if a/some user/s in a forum, it is shown.
support phpBB 3.0.1 - phpBB 3.0.2 RC1
OPEN
includes/functions.php
FIND
includes/functions_display.php
FIND
language/en/common.php
FIND
styles/prosilver/template/forumlist_body.html
FIND
styles/subsilver2/template/forumlist_body.html
FIND