This may be a bit of a long shot here, but I've looked around before posting this question.. I believe it may require those who have knowledge of phpBB source code.
Well after a thorough amount of work and time modifying phpBB to act sort of like a blog/web portal, I have been successful and am very happy with the software.
I would like to take this to the next level by adding per topic authorship.
Google+ has rich snippet functionality
and with it properly implemented on a website, the click-through rate is phenomenally improved.
So my question is, where do I intercept this anchor in its function: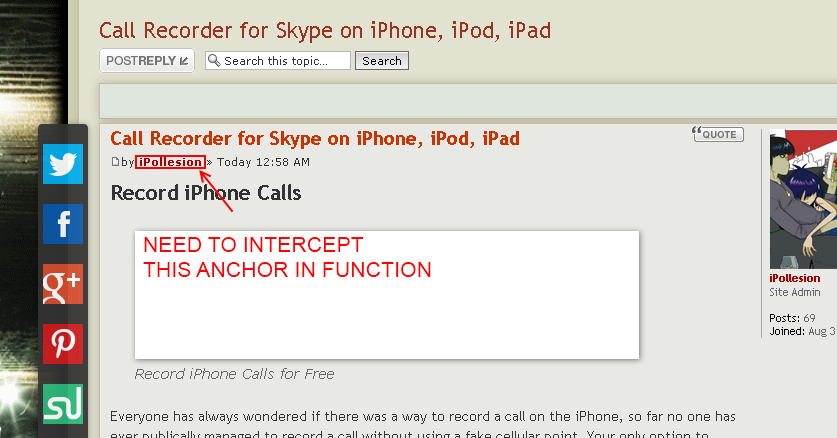 Additionally, what I want to do is replace that "by" link with a custom profile field to their Google+ profile which input is a URL (validated by server, if not a URL then it won't save.) OTHERWISE just link to their forum profile if no URL is present.

To make things a bit more tricky,
I want to have this "by" link only replaced on the topic's first post (which is basically the topic itself, this will help not to confuse the search engine per each topic, so it knows who made the topic and doesn't index all the replies as an author)
I hope someone can help, I look forward to achieving this functionality within phpBB and possibly porting it to a phpbb 3.x mod (that is a promise).
Support Request Template
What version of phpBB are you using?
phpBB 3.0.11
What is your board's URL?
http://www.techimperial.com
Who do you host your board with?
No answer given
How did you install your board?
I used the download package from phpBB.com
What is the most recent action performed on your board?
Fresh Install
Is registration required to reproduce this issue?
No
Do you have any MODs installed?
No
What styles do you currently have installed?
prosilver
What language(s) is your board currently using?
English
Which database type/version are you using?
SQLite
What is your level of experience?
Comfortable with PHP and phpBB
When did your problem begin?
11/10/2012
Please describe your problem.
Need to find the way to find a certain point in the phpBB forum code where it generates a link to the member profile for the topic.
Generated by SRT Generator