Extension Name:
Survey
Author:
Ithron
Extension Description:
This Extension adds the possibility of performing surveys with multiple people to your topics.
This Extension is intended to be fully backwards compatible to the existing phpBB 3.0.x Mod "tabulated survey at topic head" from the asinshesq (see
here
) for upgrades, but includes additional features.
It is, however, a complete rewrite.
Extension Version:
1.1.2
Features:
Topic poster can create a survey and add questions
Users can answer the questions
Multiple configuration options for the survey (allow multiple answers, allow users to edit, visibility settings, orderings, stop-time, ...)
Multiple options for questions (different types, counting/summing up/averaging answers,settings caps, ...)
Moderators can edit answers of other users, if the corresponding permission is set
Admins can configure default settings via ACP module
Old data from the phpBB3.0.x mod is imported upon installation time automatically. The old data gets removed from the phpBB database.
English and German language.
Screenshots:
(
Klick here
for more...)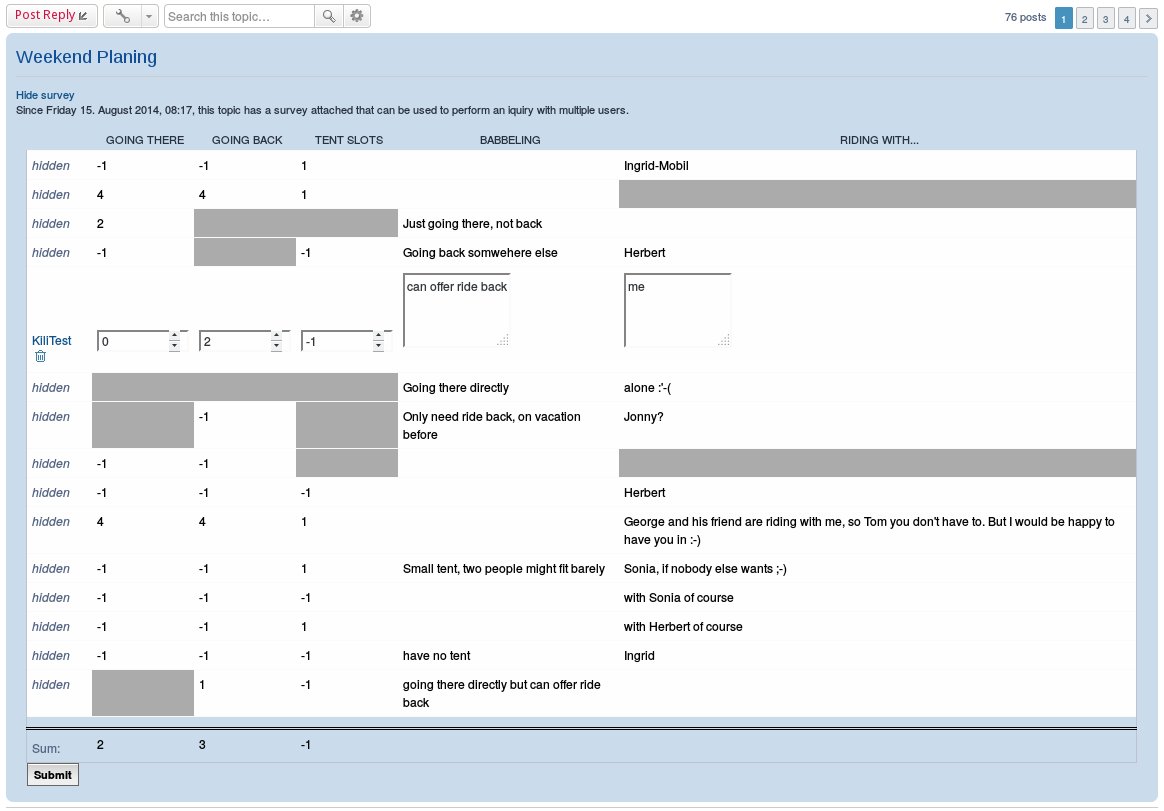 Extension Download:
https://github.com/kilianr/phpbb-ext-survey
Usage:
Upon topic creation or when editing the first post of a topic, you can enable the survey by clicking the checkbox.
After submit, you see the survey at the top of the topic. Use the "propose new questions" tab to add questions.
Users can answer the questions by filling out the form