Style Information:
Style Names: EstiloSB & Estilo
Style Creator: Dan Stylez
Other Validated Styles By Creator: Clean-Boardz
Additional Information: EstiloSB & Estilo are basically the same - the only difference being EstiloSB has SideBars.
Style Demo & Test Information:
Download Links:
Features:
Flat look.
Footer info section.
Footer social links.
Sidebars on index page. (Only on EstiloSB)
Sidebar login. (Only on EstiloSB)
Customised poll view.
Online icon next to username.
Notifications dropdown customised.
User profile dropdown customised.
Topic title in breadcrumbs.
Font Awesome icons for category and forum information headers.
Subscribe forum button moved next to forum display options - like subscribe topic / topic tools.
EstiloSB Main Preview:
Click image to make it bigger.
Estilo Main Preview:
Click image to make it bigger.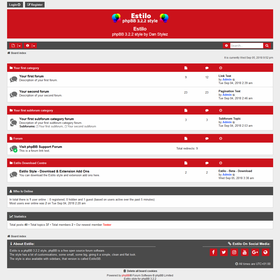 Other Previews:
Click images to make them bigger.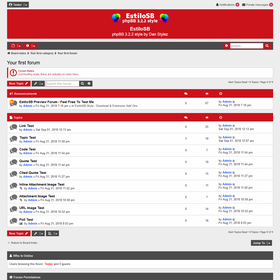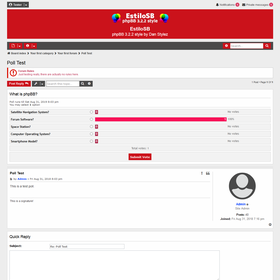 Notes:
Last Update: Thursday 6th September 2018.
Planned Changes: Currently none, Any further changes will be RTL tweaks but a lot of time has been spent on that already.