Modification Name:
ReIMG Image Resizer
Current Author:
DavidIQ
Original Author:
TaleTN
Modification Description:
Resizes user-posted images that are too large, optionally overlaying a zoom button to view the original-sized image (optionally in a lightbox).
Modification Version:
1.0.0
Features:
Images are resized (downscaled) client-side using javascript.
Images don't first load in large format and then collapse, but instead appear only after they have been resized already.
An optional zoom button is overlayed on top of resized images, so you can click to the original-sized image. This button will not mess up a URL the poster might have placed around the image.
The original-sized image can open in the current window, in a new window, or in a cool

lightbox or highslide

.
Only user-posted images posted using

Img

BBCode or uploaded as attachment are resized. However, any other image can be resized (and/or equipped with a zoom button ) by adding

onload

and

onerror

events to the

<img>

XHTML tag.
You can specify the maximum dimensions in pixels (e.g. 640x480) and/or a maximum relative width (e.g. 80%).
All settings

(maximum dimensions, zooming method)

can be changed from the Administration Control Panel.
This MOD comes with default, neutral style sheeting built in, so you don't need to alter all your theme files. However, you can override these defaults from within your theme files, and thus unleash your own style sheeting magic on the resized images.
Quick loading, compressed/stripped javascript files as well as full javascript source code files are included.
I've successfully tested this MOD in Internet Explorer 7, Internet Explorer 6, Internet Explorer 8, Firefox 3, Firefox 2, Firefox 1.5, Firefox 1.0, Opera 9.5, Opera 9.27, Safari 3.1 and Mozilla 1.7.
Screenshots:
(Yes...shamelessly copied from TaleTN's site
)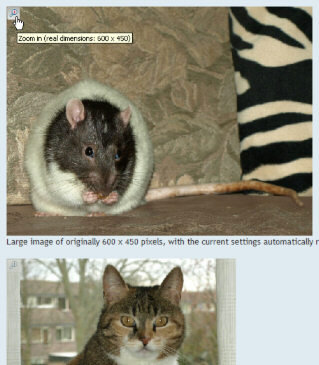 Resized images with overlayed resizing button.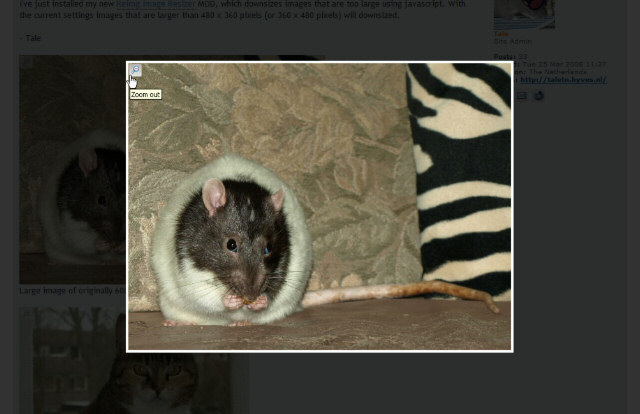 Lightbox-resized image.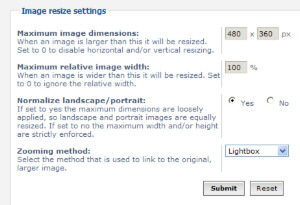 Configuration in ACP.
Demo URL:
N/A
Modification Download:
http://www.phpbb.com/community/viewtopi ... &t=1696215
NOTE:
Development continuation of
this MOD
with original author's permission.