I don't want to use Topic Icons at all. Unfortunately I selected to have them when I created the forums, but I since changed my mind. Now I can't turn them off.
I have disabled topic icons for ALL forums on my board.
I double checked every single forum twice - the "No" option is definitely ticked for all forums, see below.
I have refreshed the theme and purged the cache.
Logged out user and logged in again.
Tried different browsers
Emptied browser cache.
But the Topic Icons aren't going away!
For some responses to existing topics they are not there. But for all New topics, they appear.
I can't find any more settings for Topic Icons and need advise!
Want to get rid of the topic icons!
Environment
: phpb 3.0.12; Theme: we_clearblue; Language: Swedish
ILLUSTRATION:

Topic Icons disabled for the forum I am about to create a new thread in: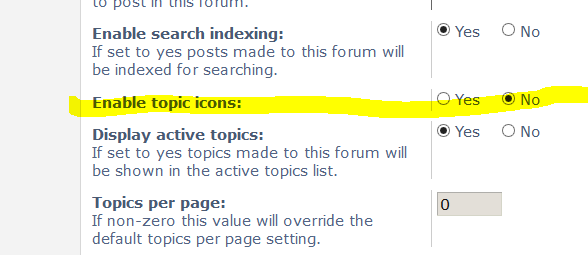 Topic Icons appear anyway, as I try to create a new thread in the forum in question. Repeated in all forums on my board.