There are already some MODs that aim at making a post editable by several users thus making it look like a Wikipedia. Another trick is just to create a group inside the forum and make this group moderator of a particular forum. After that all the members of this group will able to edit all posts inside that particular forum.
Though these tricks are useful, these do not match up to the full potential of a real Wikipedia. Therefore I decided to integrate a wiki (
http://wikkawiki.org/
) into phpbb. Following is the status of this MOD:
Integration of the wiki output into phpbb template (100 %)
Making WikkaWiki use phpbb's authentication system (100 %)
Writing down instructions properly to get it accepted as a MOD (0 %)
I made use of the following information for this integration:
Blank page MOD
Using the phpBB users table for logging in
I will be looking forward to your feedback.
Update 28-04-2006
A demo is available on my
Urdu forum
Wiki integration demo
Update 05-05-2006
- Changed the topic prefix to BETA to denote the introduction of the beta version of this MOD
- added a screenshot
- provided a download link
Update 21-05-2006
- Updated the MOD to Beta 0.0.3
- Bugs Fixed
The instructions address a file wikka.php where it shoulf be wakka.php
All occurrences of 'Wiki' are replaced by 'wiki', this fixes the problem with the wiki url
Added the instruction of not copying WikkaWiki's index.php file otherwise it overwrites phpbb's index.php file
- setup an
English demo forum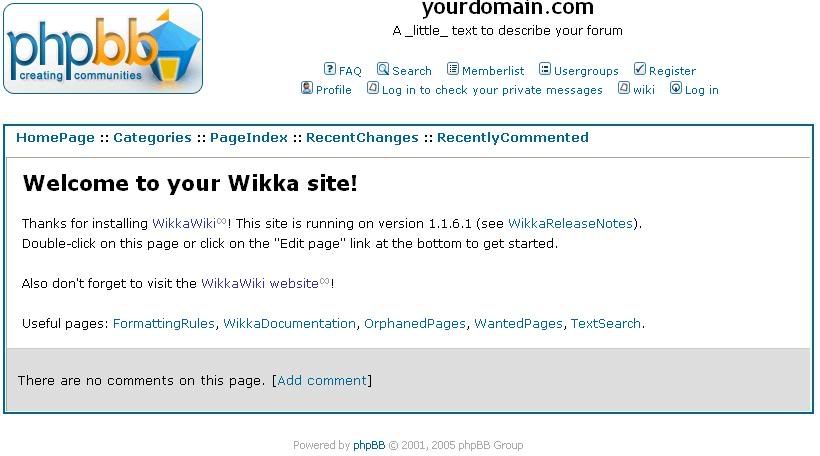 Download:
Wiki_Integration_MOD_0.0.1_BETA
Regards,