I have a bulletin board running old vBulletin software (version 3.6.5) that I am moving to a new host. As part of the migration, I wanted to switch platforms to the latest stable 3.0 release of phpbb (because I couldn't find a conversion tool for 3.1) I used this converter
viewtopic.php?f=65&t=1722325
which, amazingly (considering how such things usually go for me) seems to have brought all threads, posts, usergroups, pms, and even passwords over in tact. Smilies are broken, which I feel pretty sure I can solve and is low priority anyway.
The big issue is that BBCode is broken and is showing in the posts and threads as plain text. Compare the way the same thread looks on the old vbulletin forum vs. the new phpbb3.0. (Note: please manually input the text for the below URLs -- adding http:// prefix if your browser requires -- as they are part of a temporary staging subdomain that I don't want to have search engines picking up and indexing on the Internet)
testphpbb.thechaselounge.net/vbulletin/showthread.php?t=2930 (old Vbulletin)
testphpbb.thechaselounge.net/forum/viewtopic.php?f=137&t=2930 (phpbb3)
I first tried the solution that the user in this thread posted, but it didn't work for me:
viewtopic.php?f=65&t=2177674
Next I tried the STK
https://www.phpbb.com/support/stk/
and ran the "reparse bbcodes" script.
Because I didn't know how long this process would take and started it around 2:30 AM last night, I let it run on its own. This morning the bbcodes on the forum are still broken, nothing at all changed as far as I can tell. But the browser window where I had run the script did give me an error report which this board will not apparently allow me to post without a tagging procedure I'm unfamiliar with. If someone can tell me how to post that, I will.
All of the so-called "vbcodes" used at the old forum were standard format bbcode using the same bracketing and nomenclature. There were no custom vbcodes or bbcodes.
In the database for the migrated forum, it's clear that phpbb posts table has added two fields related to bbcode and has integrated the content of the second one (bbcode_uid) into the post. Compare screen caps for the database post edit view of the same sample post linked above, first as it appears in the old vBulletin database and then as it appears in the converted phpbb3 database: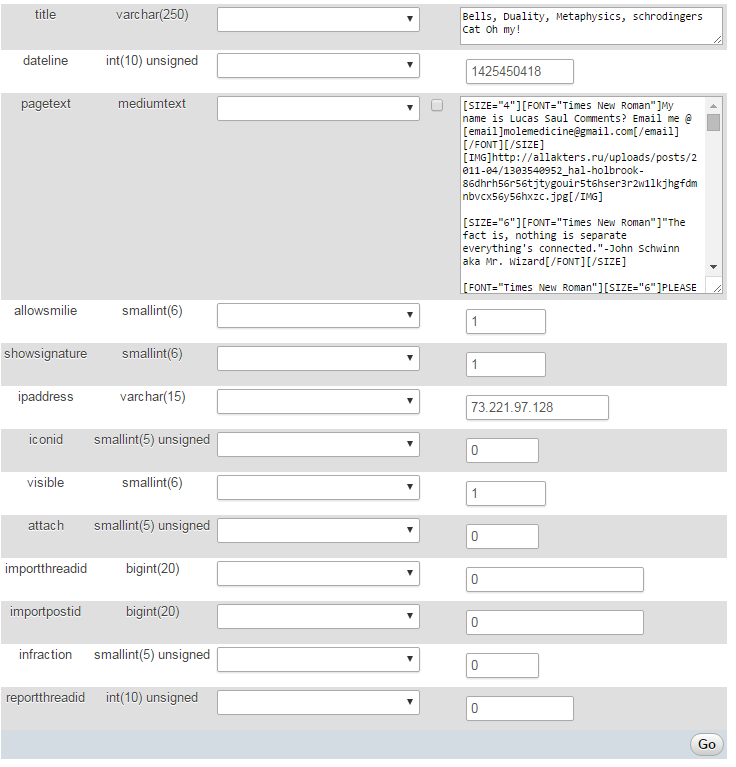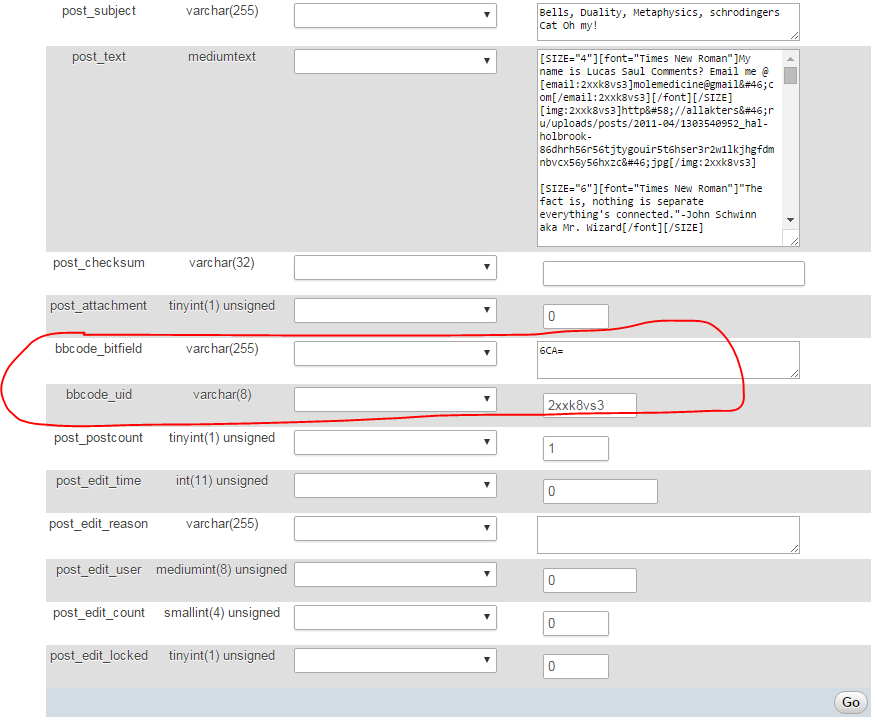 Quick database checks of other posts using bbcode by the same user in this same thread suggest that a unique bbcode_bitfield and bbcode_uid are assigned to each post.
My google & forum searches haven't provided me with a solution for this.
Any help either with running the STK tool again (effectively) or some other way to fix these broken codes would be much appreciated.